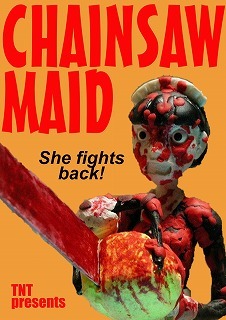 Japanese claymation short horror film, "Chainsaw Maid" by Takena Nagao (aka TNT) is about a loyal maid that fights off a horde of zombies with a chainsaw. Takena made it as a tribute to 1980s splatter punk horror films. Personally, I love this little gem of claymation horror. It doesn't get any more full of blood, guts and gore than this!
Takena Nagao did an interview with Comic Mavo magazine where they talk about "Chainsaw Maid" and what inspired him to make it. You can read a translation the interview courtesy of Tokyo Scum Brigade
here
Watch "Chainsaw Maid" below!
The unofficial sequel/video response (not the actual sequel made by TNT) by Lee Hardcastle titled "Chainsaw Maid 2" can be seen
here
Warning! There is some "adult" language in this one, which may not make it appropriate for all age groups.